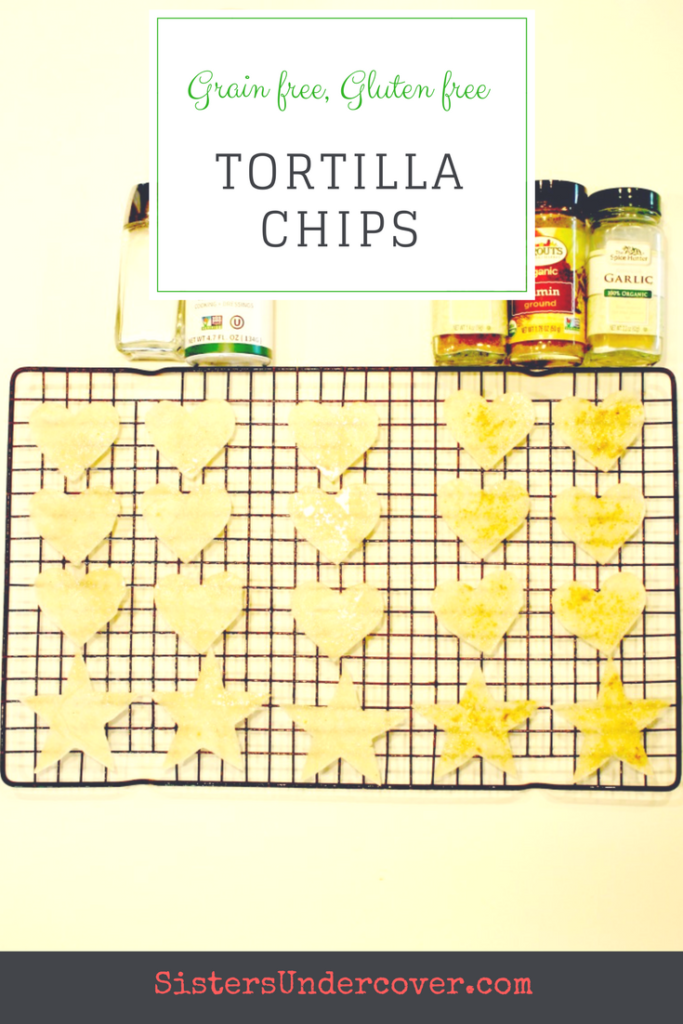 Paleo Tortilla Chips
I love tortilla chips. Once I eliminated corn from my diet I just put the tortilla chip in the rear view mirror. I'm pretty sure I ate my weight in chips and salsa in the weeks leading up to me officially going grain free! So now you know, I love tortilla chips and I love tacos. To say I was on a quest to find a replacement was a total understatement. I wasn't sure I was going to be able to sustain this way of eating if I couldn't have a few of my old faves.
My Findings
First, I found Otto's Cassava Flour and I started making my own tortillas. I also found Siete Foods tortillas, the ingredients are : CASSAVA FLOUR • WATER • COCONUT FLOUR • COCONUT OIL • PASTURED PORK LARD • APPLE CIDER VINEGAR • SEA SALT • XANTHAN GUM. These are the Cassava & Coconut Tortillas and they are a wonderful option if you have cut out wheat and corn from your diet. These are a great replacement for both flour and corn tortillas. I like to make my own, but it is nice to have the convenience of these delicious tortillas from Siete Foods.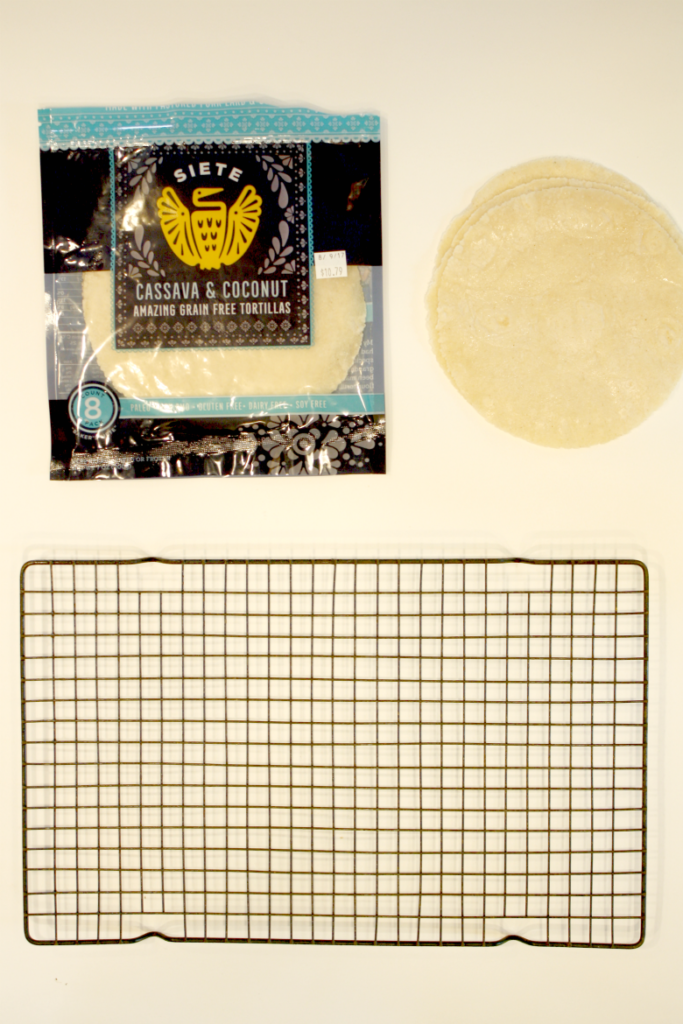 Siete Foods also makes tortilla chips now and if you have a chance pick up the lime tortilla chips do it!
In this case I decided to make my own, because I'm crazy like that. These are the easiest of easy to make. You can use whatever shaped cookie cutter, I just happened to have a heart and star on hand…….I'm pretty much a sucker for anything heart shaped!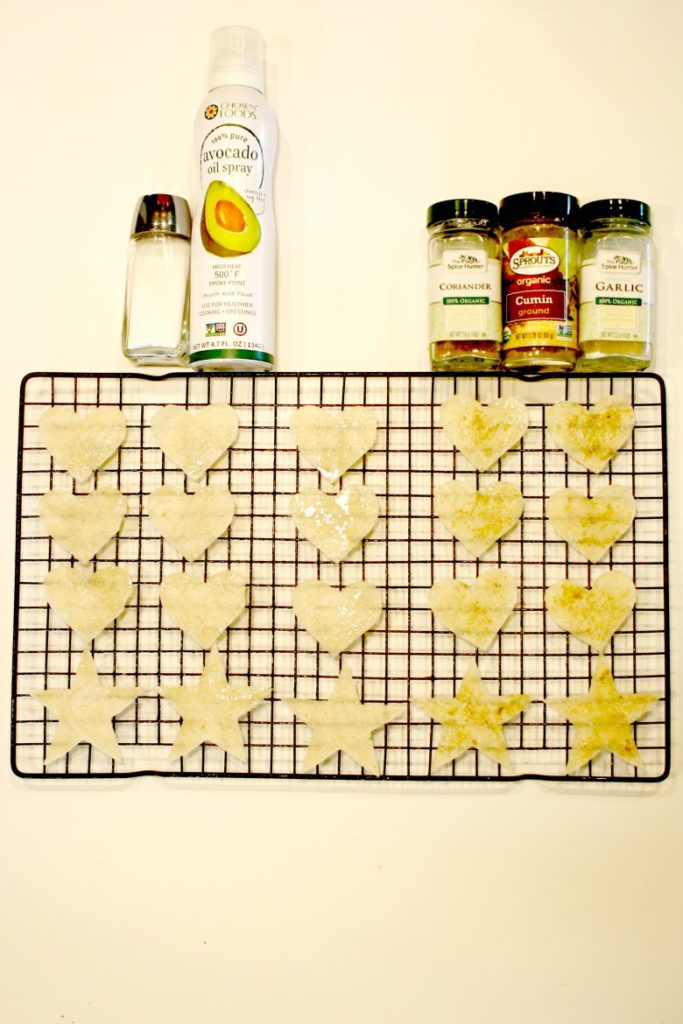 The Recipe
Cassava & Coconut Paleo Tortilla Chips
Ingredients
3 Siete Foods Cassava & Coconut Tortilla Chips
Avocado Oil Spray
Salt
Cookie Cutters
Baking rack
Optional:
Garlic Powder
Ground Cumin
Ground Coriander
Instructions
Preheat oven to 350 degrees
Stack the three tortillas one on top of the other
Use the cookie cutters to cut into shapes OR freehand it!
Place cut out tortilla shapes onto a baking rack.
Lightly spray tortilla cutouts with the Avocado Oil Spray
Sprinkle sparingly with salt
Flip and repeat steps 5 & 6.
Bake at 350 degrees for 10-12 minutes no need to flip while baking.
Remove from oven and let cool for a few minutes before tasting these crispy tortilla chips.
Notes
For another option try sprinkling each side with the salt, garlic powder, ground cumin and ground coriander to taste on both sides.
Using 3 tortillas this should yield between 20-24 chips depending on what shapes you cut the tortillas into.
Enjoy these crispy Paleo Tortilla Chips with guacamole or on their own. Throw them in your lunch or send them off to school with your kids. Make some paleo nacho's, the possibilities are endless!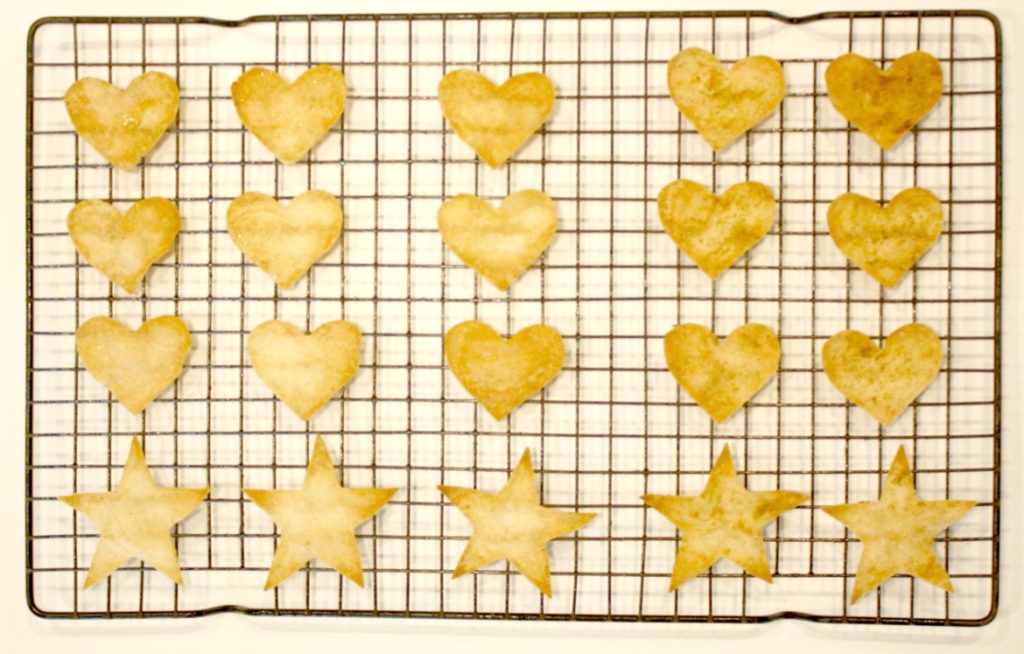 Let us know when you make these Paleo Tortilla Chips and what you think. Comment below, we love to hear from our Sleuths!
Some of the links in this post are affiliate links please check out disclosure policy to see exactly what that means.
SaveSave
SaveSave
SaveSave
SaveSave
SaveSave
SaveSave
SaveSave
SaveSave