My Favorite Dip
One of my favorite things when I go to a party, chips and dips! Who is with me on this one? I would usually park myself in front of the chips and salsa, the Fritos and chili dip, the potato chips and sour cream and onion dip. Everyone would always know where I was because I was hanging at the chips and dips!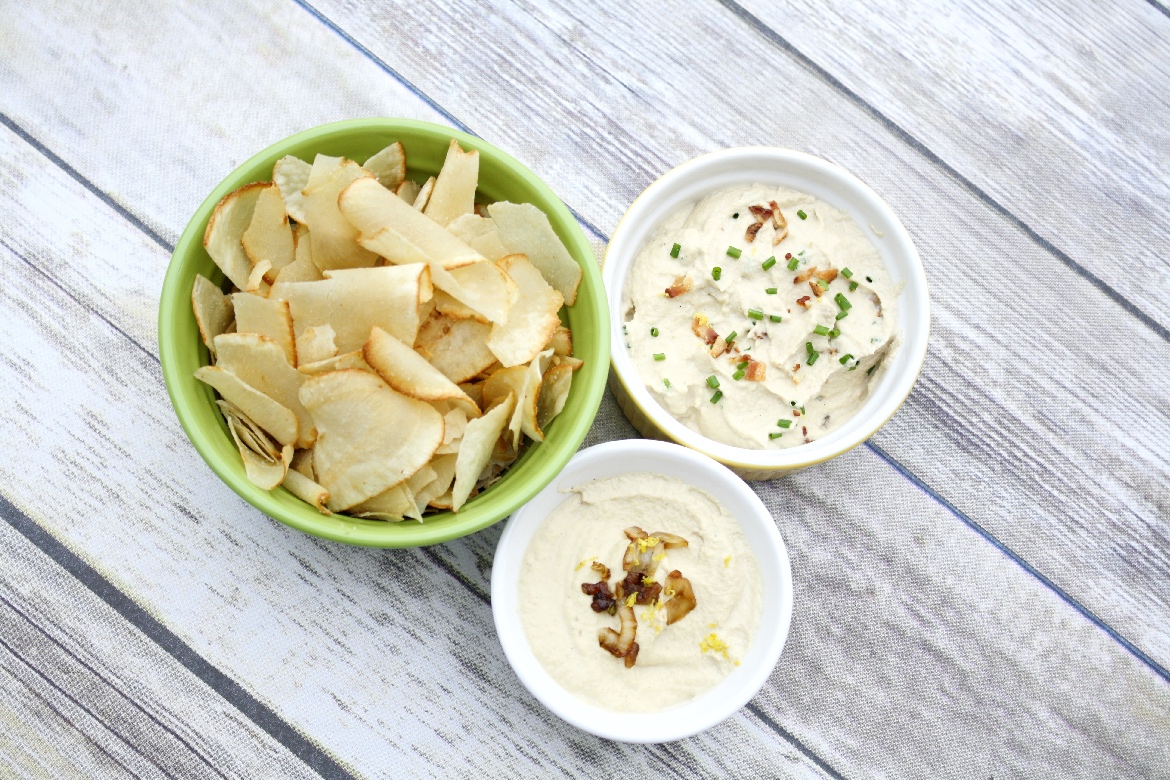 My Quest
I have been on a quest to come up with a sour cream and onion dip replacement. I usually made sour cream and onion dip with a soup mix and sour cream, but now I need a fresh, paleo version. I did it! I finally did it! Then I needed to find a replacement for my potato chips! That's where Artisan Tropic stepped in to partner with us on this quest! Artisan Tropic Cassava Strips are such an awesome replacement for potato chips (or tortilla chips really). It has a perfect salty crunch that hold up to this dip and the dip isn't so stiff that it breaks the chip…..a match made in heaven!
Parties, Picnics
I made this on Mother's Day and received rave reviews, I can't wait to use it on all other parties I have at the house. Awesome Bonus: there is no dairy, so no worries about leaving it out the whole party or picnic! What I have found with this dip is paleo eaters and non-paleo eaters find this dip yummy!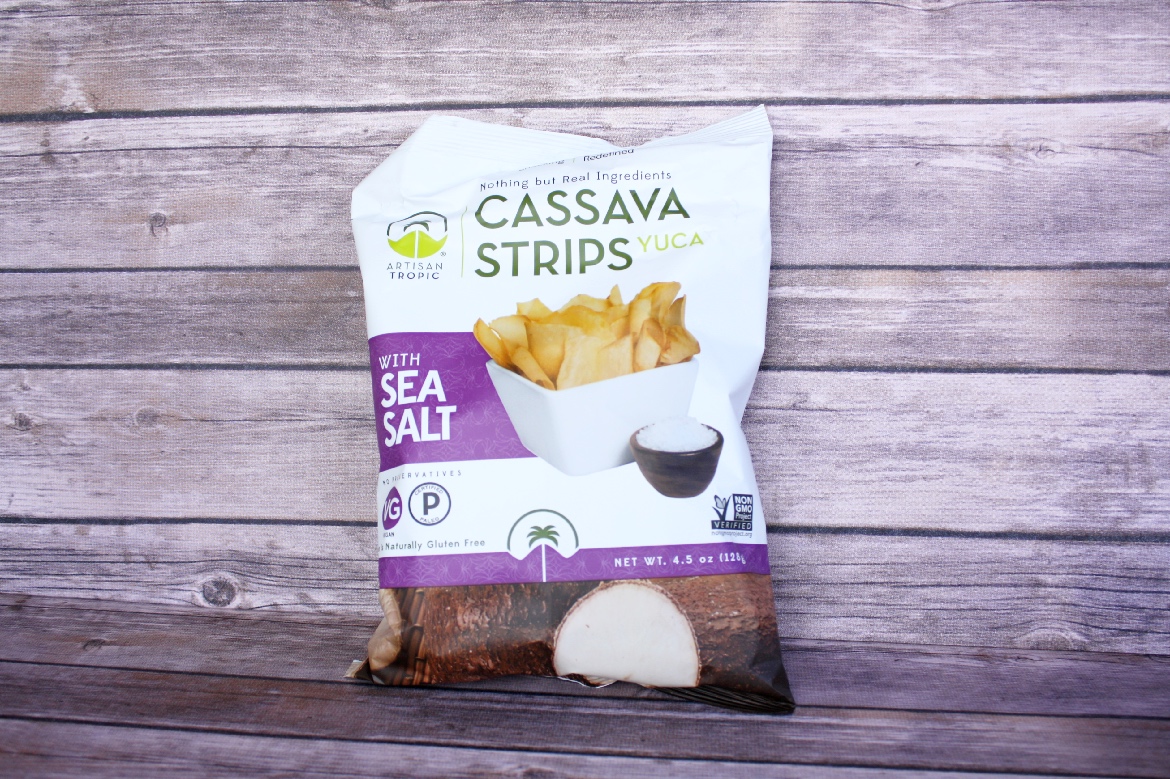 A Little Bit About Artisan Tropic
Artisan Tropic is a family owned business. The family is originally from Bogota, Columbia and now lives in Charlotte, North Carolina. After a family member was diagnosed with an autoimmune condition and embarked on various elimination diets with improved health. This family decided to share their love of healthy eating and living with us! Yay for family businesses making it easier for us to eat healthier and doing it in a sustainable and conscientious way.
Paleo Bacon and Onion Dip
This is a delicious paleo bacon and caramelized onion dip great for dipping chips and vegetables.
Ingredients
1 Cup Raw Organic Almonds soaked overnight or sprouted
1 Onion sliced and caramelized
2 tsp coconut aminos
1/2 tsp of salt
1Tbl. Avocado Oil
1 Clove of Roasted Garlic
1/4 C Water
1/2 lemon juiced
1 Tbl. Chives- reserve a bit for garnish
2 pieces of crispy paleo bacon chopped (about 1/8 C if using Paleo Bacon Bits)-reserve some for garnish
Instructions
After almonds have soaked overnight and skins are removed; measure one cup and add that to a high powered blender.
Add remaining ingredients except for chives and bacon.
Blend until smooth.
This is a great dip on it's own, Paleo Caramelized Onion Dip!
If you want to kick it up a notch add the crumbled bacon and chives reserving a bit of each for garnish.
Stir the bacon and chives into the onion dip.
Spoon the dip into a serving dish, garnish with bacon and chives and enjoy dipping!
Notes
Soaking the almonds overnight in water not only makes it super easy to peel the skins, it softens the almonds and aids in digestion. You can also sub the roasted garlic for regular fresh garlic, I would grate the garlic in if using fresh garlic and start with a half a clove and taste before adding more!
You can get Artisan Tropic Cassava Strips at one of our faves: One Stop Paleo Shop! They are getting new products in all of the time so check back with them often!
Artisan Tropic also makes Plantain Strips that we highly recommend as well!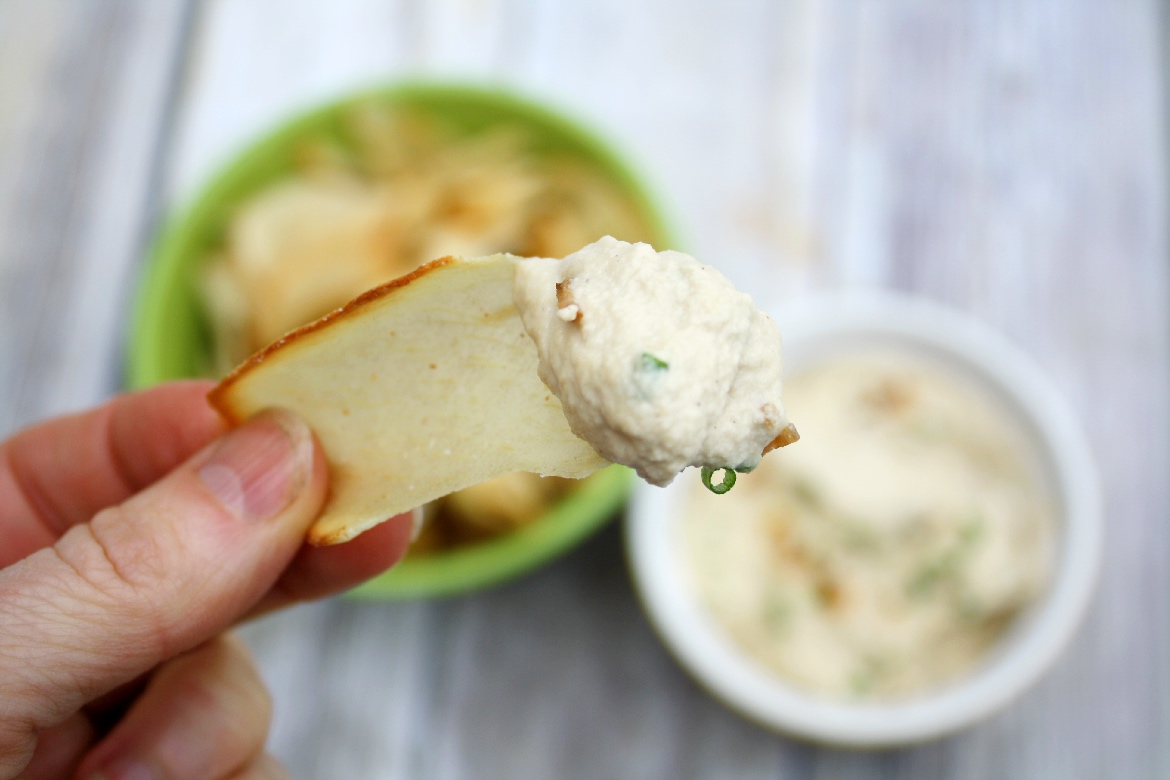 Do you have any favorite dips that you have made Paleo or AIP? Please share them in the comments below. When you make this for your next get together let us know how this recipe turned out for you in the comment section below.
Some of the links in this post are affiliate links please check out disclosure policy to see exactly what that means.
SaveSave