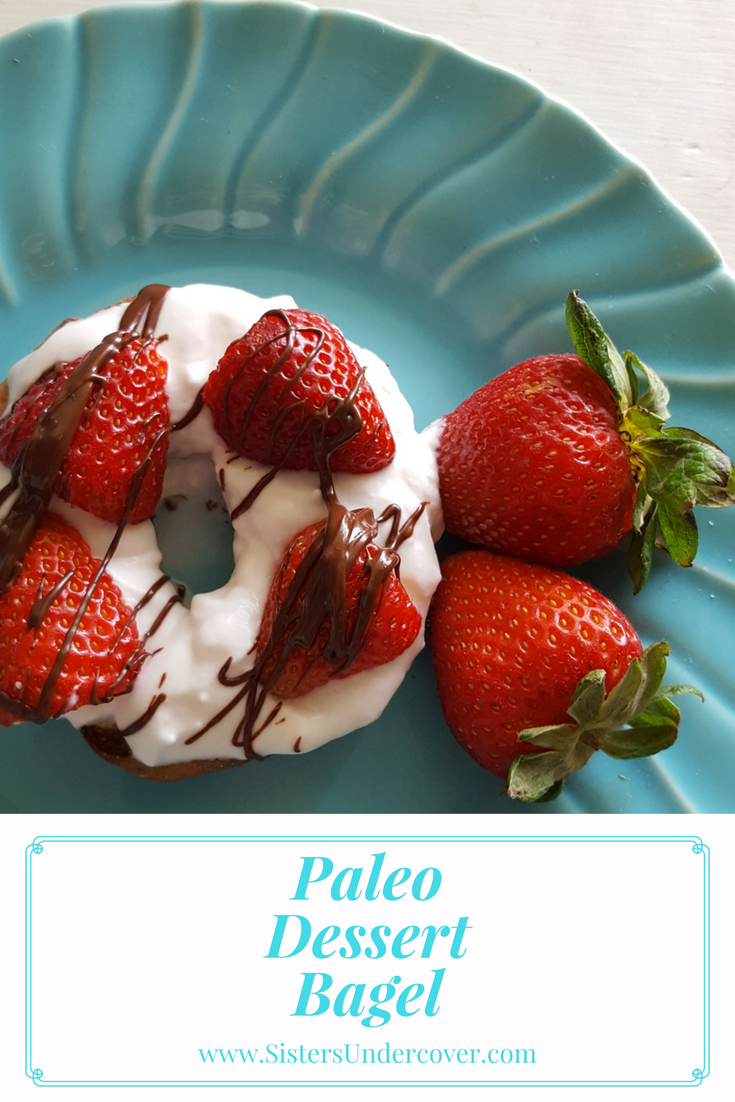 So you've made Mom incredibly happy with course one, Paleo Eggs Benedict, now to complete the homerun. I introduce you to my Paleo Dessert Bagel! Y'all, this recipe popped into my brain. I cooked it. Had several people taste test it and they ALL said they wouldn't change a thing. These are people that give it to me straight! These are people that don't hold back. Could I have really just created a recipe in one take? I suppose you'll have to try it to see if it just as good on your end.
Mom Loves
Whipped cream, strawberries, chocolate. Tell me a mama that is not into that. I know there are people with allergies or sensitivities so I'm not talking about them, EVERYBODY else on the planet loves them. I'm being so presumptuous, but c'mon! And if your Mom is trying to eat healthier or is Paleo, this is a treat and a half.
Let's Get Right Down To It
I'm using the other half of my Legit Bagel Mix (so good) for this wonderfulness. When you make the batch of bagels you will have six, yummy bagels in the end. I kept this batch plain since I knew I was going to experiment with various recipes with them, but of course you can add whatever you want in the mix to hit the spot for you.
Ingredients
Instructions
Put 2 cans of coconut milk in the refrigerator 24 hours prior to using. I like to do 2 cans because every once in a while you get a dud when it comes to cream rising to the top.
Cook the bagel per bagel mix instructions. Let them cool and then slice them in half. Then lightly toast
Place a mixing bowl and whisk attachment into the freezer for about 10-15 minutes before using
Remove mixing bowl and whisk from the freezer and open one can of coconut milk
Scrape off the thick coconut cream from the top and place that in your mixing bowl. If it doesn't yield a lot, feel free to use the second can
Add the honey and the vanilla extract to the cream
Whisk with a handheld mixer on medium/high until you see the wonderful fluff
Place your chocolate chips in a small bowl and microwave for about 30-45 seconds and stir upon heating
Cut up 2 strawberries length wise
Start the assembly! The bagel is first, then take your coconut manna and lightly spread it across the bagel, then add the whip cream all over the bagel, place the sliced strawberries on top and lastly, take a small spoon and dip it in the chocolate and drizzle on top
I Wish…
I wish I took pictures of my peeps eating this! I was so caught up in them trying it out and seeing their genuine reaction that the photographer in me took a back seat. It was pure joy! Light up your life and those around you with this wonderful, Paleo Dessert Bagel treat!
---
To stay up-to-date on our Paleo and AIP recipes and more, join our sleuthy community!
---
Please let me know in the comments if you tried this or added your own spin!
Some links in this post are affiliate links which means we get a small commission on the products you purchase and the item costs no more for you, so click away. This helps keep our blog going sleuths! Here is our disclosure policy.