Our Favorite Pillow
Sleep is such an important aspect of feeling well, especially if you have chronic illness or autoimmune disease. Today we are sharing our favorite pillow that helps us get a great nights sleep on several levels. This pillow has so many benefits, here are our favorite aspects of Pillow of Health!
It's machine washable! Yes, you can pop it in your washer AND your dryer! On the Pillow of Health website they have a great clip showing 100 washes of this awesome pillow!
This pillow is adjustable. It has a patented zipper that you open and just pull out as much filling as you need in order to get a great nights sleep! This is huge for me (Kara) I don't like super fluffy pillows, I like just enough support so I took out almost half of the medical grade fill.
Pillow of Health is made in the USA, manufactured by JBT Specialty Products, LLC in Saint Charles, Illinois.
CertiPUR-US® certified– foams are low-VOC emission materials (for improved indoor air quality), and made without formaldehyde, mercury/lead/heavy metals, PBDEs, ozone depleters or prohibited phthalates.
Dust Mite Resistant, Hypoallergenic & Antimicrobial. Let's talk dust mites, I (Kara) use to receive allergy shots. One of the biggest reactions I would have were to dust and dust mites. If you wake up in the morning stuffed up and it goes away after a bit in the morning it is most likely due to the fact that you have dust mites and their fecal matter (yes, I know, gross, gross and double gross!) in your pillow and it is causing that morning allergic reaction. On the Pillow of Health website they say that by the time you have owned your pillow for a year 20-30% of your pillow is toxins! YUCK! Since you can wash this pillow and with the materials they use you don't have to worry about this issue. Love!
Helps keep you cooler and dryer. This is especially important for me (Kara) or anyone that can easily overheat. Since just a slight elevation in temperature can exacerbate my MS symptoms, I love this. The outer fabric can keep you up to 40 times cooler and dryer than an average pillow. LOVE!
Pillow of Health has a 30 day in-home trial period. Try it, see if it works for you and if it helps with that morning congestion yourself. It took some members of our family about 15 days to find the right "fluff". Be patient. It's so worth it!
Pillow of Health also offers a Limited Lifetime Warranty. I (Kara) have experience with this myself. My son's pillow came apart slightly at the seam. I took a picture, sent it to customer service and was not only dealt with quickly and in a friendly manner, but the situation was completely rectified within 10 days. That was as a regular customer, not through Sisters Undercover, so I didn't get any special treatment. (I was undercover!)
You may never need another pillow again! Not only will you be able to wash this at least 100 times, but once you have slept on this pillow and realize the benefits of the Pillow of Health it will be the last pillow you buy!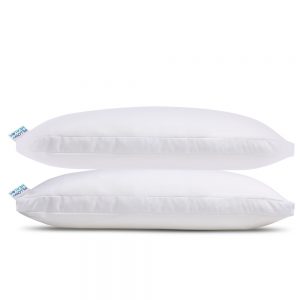 More To Love
There is so much to love about Pillow of Health. Both of our entire families now exclusively sleep on a Pillow of Health and it has changed mornings in my (Kara) household immensely. My husband isn't congested in the morning, my son that has mild asthma doesn't have as many issues as he did before purchasing Pillow of Health (he use to cough throughout the night and that has completely stopped). My other son loves the fact that he could customize his pillow, I stay cooler, have almost no sinus issues. When I have slept on a non-Pillow of Health pillow you will notice a big difference. What grosses me out is that I always think of those dust mites and their fecal matter! I totally went there again!
If you just can't wait for the giveaway, head on over to the Pillow Of Health Shop and get yours NOW! By being a slueth, you can get 20% OFF your entire purchase of $30 or more plus FREE Shipping by using Coupon Code: SISTERS20. This code is not valid with other offers and expires May 31st, 2017.
Now onto the Giveaway!
We are so happy that we could partner with Pillow of Health and bring you this giveaway! We are going to help you feel better in the morning, no joke. Here is how you enter this dreamy giveaway! *Don't forget to check out more ways to enter on our Instagram page!