Promises, Promises
That title is a big promise. Everyone's tastes are different, but Paleo and non-paleo eaters alike rave about this marinade. This is the chicken marinade I use. There is no need for another one. It is delicious, so delicious that you will not have to change things up because everyone will just want it this way anytime you make chicken! I use this all the time for batch cooking, entertaining and at least once a week for our family.
Vitamix
You can make this marinade without the help of a Vitamix, high speed blender or food processor, BUT it does change the level of awesomeness. I have done this a few times without the Vitamix and it's good, really good, but not AS good as when it's blended up.
Base
This is also a great chicken marinade recipe because I usually have all the ingredients on hand. As I've said in a few other recipes, this is spectacular on it's own, but it's a great base recipe too. If you must change it up, not sure why you would, but I have to admit I have myself a few times. Try adding thyme or rosemary to this recipe. Also cumin, coriander, as well as oregano is a good fit for this base recipe. You may have to play with the ratio's a little, start with 1/2 tsp of a dried spice and closer to a Tablespoon for a fresh herb.
Kacy
The first time I had this was at my sister's house. Her husband was grilling us some chicken drumsticks and nearly caught the house on fire, always an adventure, but the drumsticks were delicious.  I immediately needed the recipe and have been using it ever since. I have no idea where she got it, I have a picture of her recipe and Kacy doesn't know where she got it either. So full disclosure, we didn't invent this recipe, but it feels like ours now. It does have black pepper in it, so if you are going full AIP omit the pepper. Thank you Kacy!
Chicken
This is delicious on any cut of chicken. The recipe is for drumsticks, but I usually use it on wings, breasts or drumettes (I do have a slight obsession with drumettes! Remember this"breaded" drumette recipe I did awhile back?). One time I tried it on a whole chicken and roasted it, mmmmm so yummy. It is best on the grill, but a marinated chicken breast browned in a cast iron skillet and finished in the oven, superb! It is also good on shrimp, steak, pork, any meat really!
The BEST Chicken Marinade EVER!
Ingredients
10 Chicken Drumsticks
1/2 C Olive Oil (I use avocado oil now)
1 head of garlic (around 10 cloves)
juice of one lemon
1 Tbl Sea Salt
1/2 tsp pepper (omit black pepper if AIP)
Instructions
Place olive oil, garlic, lemon juice, sea salt and pepper into a Vitamix or food processor and puree. This is the marinade. Rub the chicken drumsticks in the marinade. Grill the chicken drumsticks.
I like to marinate the chicken for 30 minutes. If you only have 5 minutes to marinate the chicken it will be great, 30 minutes it's a better. I grill my wings or drummettes for about 20-25 minutes. The drumsticks need to reach an internal temperature of 185-190 degrees. It usually takes 30-35 minutes on a grill at a temperature of around 450 degrees.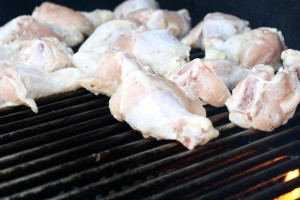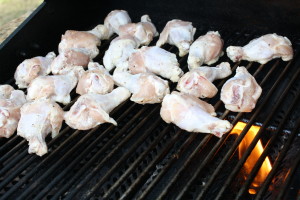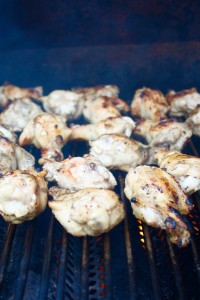 When you make this outrageously, delicious chicken marinade please share your comments below! Do you have any marinades that are on your weekly rotation that you'd like to share? Post them below!

Some of the links in this post are affiliate links. This is how we keep this blog up and running, please see our disclosure policy for more details.